NEWS
The repairability index
2021/09/17
> Back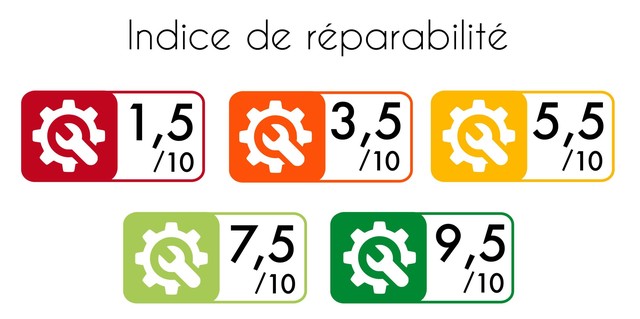 Since 1 January 2021, the repairability index is enforced for five categories of electronic and home appliance products. The following product categories fall under the obligation: front-loading washing machines, smartphones, laptops, TV monitors, electric lawn mowers.

This index, introduced by the law against waste and for the circular economy, aims at a better information for the consumer about the repairability of his / her purchases. This information aims to raise the awareness of consumers about their ability to extend the use time and life span of their products, notably by steering them towards products that are easier to repair and by pushing them to resort to repair in cases of failure. As such, this is also a tool for combatting obsolescence – either planned or not – in order to avoid the premature disposal of products and preserve natural resources.

The calculation of the repairability index includes 5 criteria for all product categories:

1. Documentation: the commitment of the producer to make available, for free and for a number of years, technical documents to repairers and consumers.

The information can be freely distributed at the initiative of the producer in various physical or dematerialized documents. Scoring points are awarded if the information referred to is available in any document. Technical bulletins: This wording covers announcements made by the producer to professional repairers, informing them, for example, of recently discovered bugs, of the corrections to be made, of the supply disruption of parts which have been replaced by others. Points are awarded if the edition of a technical bulletin is planned on an ongoing basis (when necessary).

2. Ease of disassembly and access, tools, fasteners: the ease of disassembly of the product, the types of tools necessary for it, and the types of fasteners.

3. Commitments on the availability of spare parts and delivery times.
The producer should have his own in-house repair service (example: via the after-sales service). Whether for the period of availability of spare parts or the delivery time, the producer or the importer must retain, among all of their practices towards authorized and independent repairers, the period or the most penalizing time for each spare part.
Definition of spare parts distributor: Any moral or physical person in the supply chain, other than the producer or importer, who offers a spare part for sale. They are commonly referred to as "spare parts wholesalers".

4. Price of spare part: the ratio between the price of spare parts and the price of the product.

5. Specific criteria: sub-criteria specific to the product category, like remote assistance services which include remote information (website, FAQs, etc.), remote diagnostic assistance (phone call line, chat, application included in the equipment, interactive decision tree, etc.)


This is very positive news for us.
We believe that in the long run, as long as consumers can consistently express what they want, big corporates will ultimately have to offer that value. Washing machines, electric lawn mowers and televisions industries are our company's long-standing customer, when our customers are faced with such regulatory changes, as parts suppliers we will be willing to provide information, whether it is product warranty, after-sales service, spare parts prices, trouble debugging services, etc., these are our advantages.



Data source: www.ecologie.gouv.fr